Enjoy an upgraded backyard water experience unlike any other with the all-new Swim Series by Bullfrog Spas®. Build endurance and strength with preset or customizable fitness programs, resistance training, and space for any number of low-impact, water-based workouts. Practice swimming, play games, or splash around on the unique splash pad area. With an ample number of multilevel seats, you'll have plenty of room for everyone to join the fun. Work out, play, or relax away tension, all year round, right from the comfort of your own backyard. No other product in the category offers the numerous therapy options available with the patented JetPak Therapy System™. Swim Series is built with legendary Bullfrog Spas® quality and reliability, attractive aesthetics, features designed for an endless variety of uses, and a remarkably functional layout you're certain to love.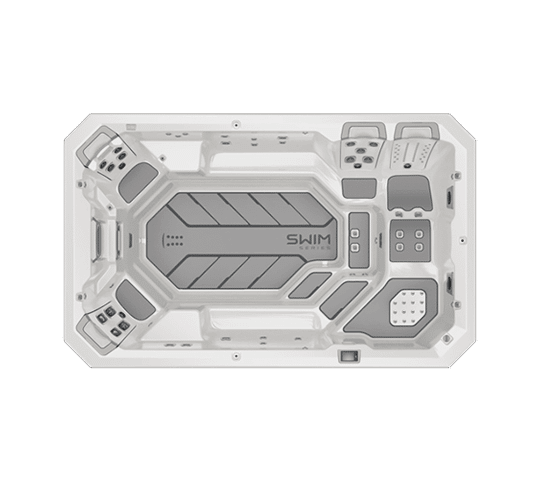 Want to learn more about this swim spa?
More About Our Bullfrog Spas®
JETPAK THERAPY
SYSTEM
Users can simply place their favorite JetPak™ in the seat that fits them best ergonomically, effectively redefining the hot tub experience.
EnduraFrame™
Hot Tub Structure
Spas are built on the wood and metal-free EnduraFrame™ support structure, so you'll never have to worry about rotting or corrosion.
ENERGY EFFICIENT
HOT TUBS
The JetPak Therapy System™ also uses 90% less plumbing and is fully-equipped with full foam insulation, making it extremely energy efficient.
10 Reasons To Own A Swim Spa
1. Spend more time outdoors
2. Strengthen bonds with loved ones
3. Strengthen your body and tone muscles
4. Maintain a healthy body weight
5. Ease muscle tension and sore joints
6. Reduce feelings of stress and anxiety
7. Improve your backyard design
8. Experience better sleep patterns
9. Soak or swim throughout the year
10. Spend more time relaxing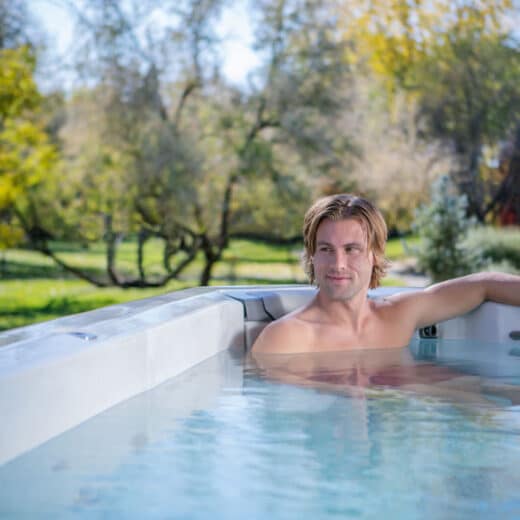 Lifestyle and Health Benefits
With Bullfrog Swim Spas®, you can experience all the exercise and fitness benefits of a swimming pool with the health and wellness benefits of a hot tub for the ultimate backyard spa experience.
Want to learn more about this swim spa?
GET THE BEST PRICING TODAY
Complete the form below and one of our backyard specialists will be in touch shortly.